Sturgis Welcomes 700,000 Motorcyclists into a Community of 7,000
Posted on:
October 2, 2017
Recognized worldwide as one of the largest – and most epic – meeting places for motorcyclists, the annual Sturgis Motorcycle Rally entertains tourists from all 50 states and dozens of international locations. With a population just under 7,000, everyone in Sturgis, South Dakota is committed to working together to transform their small town into a memorable and authentic experience for more than 500,000 motorcycle enthusiasts every year.
Sturgis recognizes all of the unique places visitors travel from with pins representing where their journeys began.
Founding a Family
What started as a single race with nine participants has grown to be known worldwide as an unforgettable celebration filled with comradery and must-see ride routes.
"Thousands of motorcycles and people – even just tourists that aren't on motorcycles – just want to come and see what the rally is all about, because this is a worldwide event," says Jessi Combs, grand marshal of the 2017 Sturgis Motorcycle Rally. "Everybody knows about the Sturgis Motorcycle Rally. I can't go to one country without seeing a Sturgis Motorcycle t-shirt on somebody."
In 1936, Clarence "Pappy" Hoel founded the Jackpine Gypsies Motorcycle Club, bringing together a small group of men with a passion to ride. Two years later, the group held the first Sturgis Rally, the "Black Hills Classic." At the time, nobody expected that the event would evolve as it has, bringing in 95 percent of the town's annual revenue.
Today, events range from races and monumental adventures to a variety of concerts, performances and even a beard and mustache competition. Some participants journey over 700 miles through the Black Hills and Badlands, embracing the extensive scenery, such as Vanocker Canyon, the Peter Norbeck Byway, Devils Tower, Spearfish Canyon and many others.
Everyone in town, from local businesses to city workers, has to pull together to host the rally successfully.
"We're a big family, and that's how we treat it," says Rick Bush, director of public works for the City of Sturgis. "We watch after one another and we pick up after each other, and we just get the job done."
LED to Success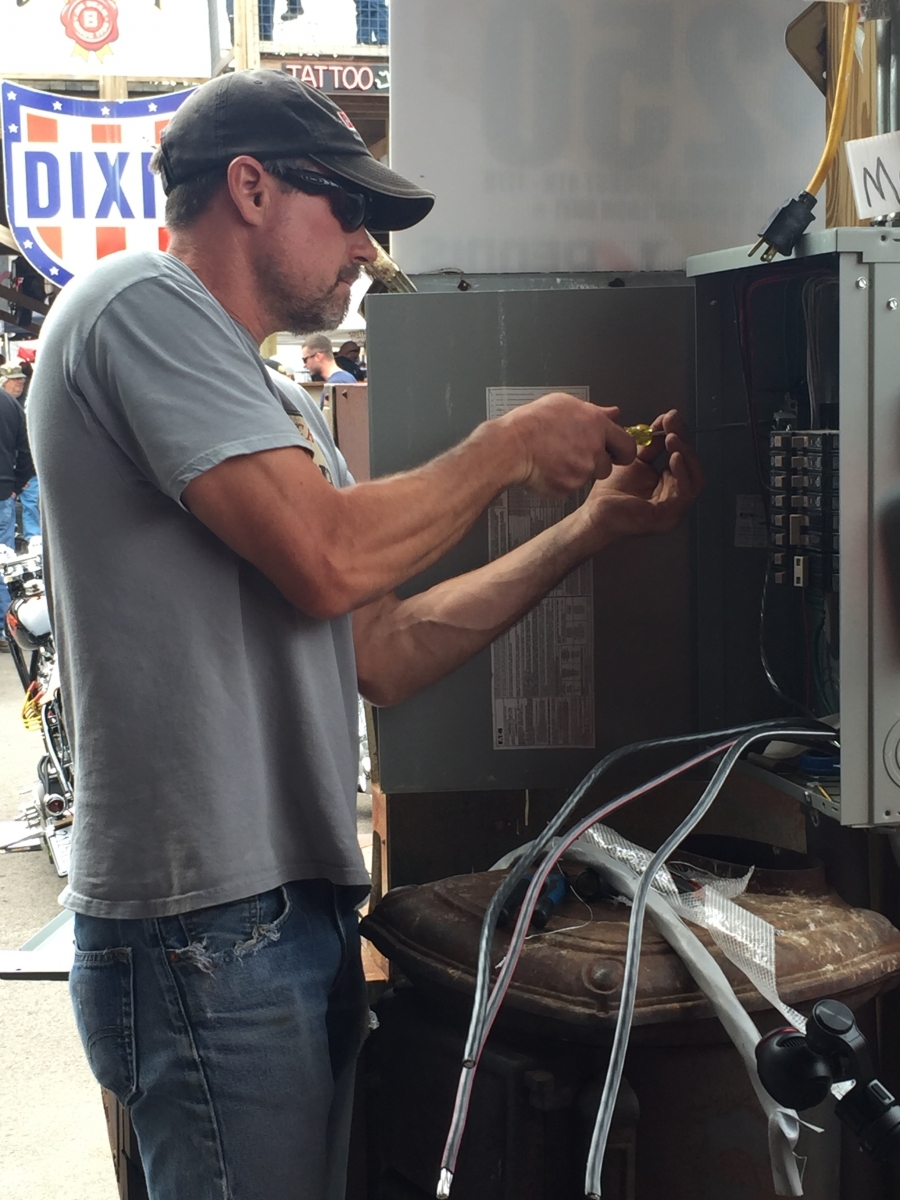 One of the biggest tasks that the public works department faces is the substantial lighting maintenance required for the various activities that span across the 10-day rally. The crews have started a project to reduce some of the most time-consuming ongoing maintenance by converting the lighting within all of the facilities to LEDs. Equipped with durable Klein tools, the tradespeople behind the scenes get the job done quickly and efficiently.
On top of providing the same quality of regular, year-round services to rally participants, Sturgis also welcomes over 100 street vendors and sponsors, each having unique requests.
"This year we had to call the electrician," says Jerry Cole, director of rally and events for the city. "We had to drop three different 50-amp plug-ins in places where we didn't have them before because the sponsors that were there needed those plug-ins."
Dedicating a tremendous amount of time, materials, and hard work to this effort, teams throughout Sturgis work together to create successful venues that live up to the passion rally attendees have for the experience.
The Sturgis Motorcycle Rally was another stop on our trip around the country to showcase the always impressive – and sometimes unusual – work that Klein-equipped professionals accomplish to bring people together through notable celebrations.
Click here to watch the video!
Did You Know Klein Tools was the Official Tool Sponsor of the 2017 Sturgis Motorcycle Rally?
Customers in town for the rally met up with representatives from Klein Tools and local electrical distributors for a scenic ride through the rolling hills. Click here to watch a recap of the inaugural Klein Electricians and Tradesmen Ride to Sturgis!