#NewKleins - Give Thanks for Klein's Newest Innovations
Posted on:
November 21, 2018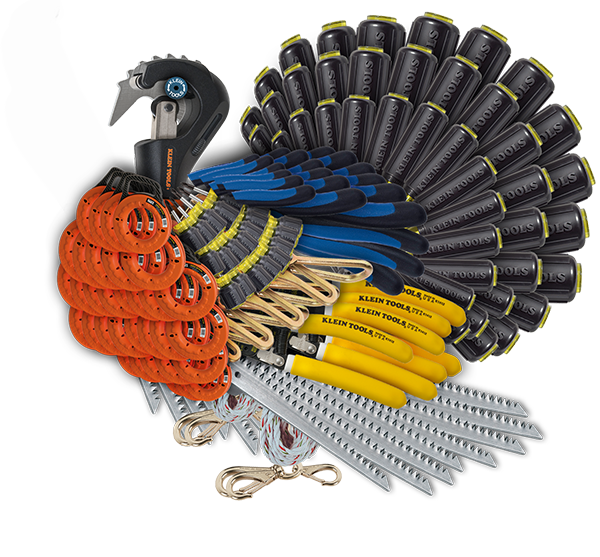 For more than 160 years, the Klein Tools family has introduced new jobsite solutions, delivering the quality and durability needed to get the job done right. This Thanksgiving, we're giving thanks for all of Klein's latest innovations, and the professionals who use them. While most people stay busy celebrating the holidays with friends and family, the professionals behind the scenes remain dedicated to the trades day-in and day-out. Gobble up these #NewKleins and join in on this season of gratitude.
Across all trades, demanding deadlines make working efficiently more important than ever. That's why Klein's family of engineers, craftsmen and workers constantly look for ways to help professionals save time on the job. For instance, losing bits and pieces results in wasted time, and materials. The Tradesman Pro™ Magnetic Wristband (Cat. No. 55895) helps save time by keeping wire nuts, screws, nails and other small parts within an arm's reach, helping professionals stay focused on the task at hand.
Additionally, multi-purpose tools, like the Klein-Kurve® Wire Stripper/Crimper Multi-Tool (Cat. No. 1019), save time otherwise spent switching between tools. With the functionality to strip, cut, twist, shear and crimp, this innovative multi-tool helps voice-data-video professionals navigate through complex wiring systems.
Where accurate voltage measurements are a part of day-to-day responsibilities, precise tools make a big difference. Advancing technology has opened new opportunities, which is why Klein's USB Digital Meters and Testers offer professionals the ability to monitor the power delivered by USB ports. Guaranteeing the right power means that all of your guests will be able to relax and recharge this holiday season.
Klein's Dual-Range Non-Contact Voltage Tester with Laser Pointer (Cat. No. NCVT-5) might just come in handy too. This easy-to-use tool detects AC voltage with visual and audible alerts, helping professionals and DIY-ers alike safely deck the halls.
We all benefit from tradespeople's success on every jobsite. So, while we are proud of the work that we do, we are even prouder of the work that they do. From constructing the roads we travel across to visit family to powering each and every celebration, these hardworking crews help make the holidays so special. No matter the job, or the season, we're grateful for the professionals who make it all happen.
What projects have your #NewKleins helped you complete lately? Share your accomplishments with us on social media.