Every month in 2020, we'll be brining you a Klein Timeline Snapshot: a look back in time at a specific year, looking at what the world was like in said year, and what was happening with Klein Tools.
This month's year: 1826
-Coffee - $.17/lb.
-One Cow - $12.00
-Leather Boots - $4.50/pair
What was happening in the world: One of the biggest things happening in September of 1826 was the construction of the Rideau Canal. Known unofficially as the Rideau Waterway, this canal connects Canada's capital of Ottawa, Ontario, to Lake Ontario and the Saint Lawrence River. Taking six years to complete, the canal opened in 1832 and was originally designed to be a precaution in case Canada and the United States ever went to war. While still in use today, with most of the original structures still intact, it is primarily used for pleasure boating. The Rideau Canal is the oldest continually operated canal system in North America.
What was happening with Klein Tools: While Klein Tools the company wasn't formed yet in 1826 (that wouldn't happen until 1857), the most important piece of the Klein Tools puzzle did come into the world in 1826. September 20, 1826 is the day that Mathias Klein, the founder of Klein Tools, was born, in Worms, a small ancient city on the banks of the Rhine River in southwestern Germany. At the time, Worms was a city of medieval churches and castles known for the skill of its craftsmen, who passed their specialized knowledge and artistry down through generations.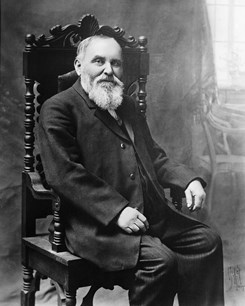 While there isn't a lot known about the Klein family before Mathias was born, he seemed to follow in the footsteps of his father, also named Mathias, who was a well-to-do roofer. Mathias also had four sisters, Babeth, Christine, Mary and Theresa.