Hands off #MyKleinBag
Professionals depend on a variety of tools in order to get a day's tasks done right. Lugging all these heavy tools, parts and materials is hard work in itself, but Klein Tools' tool bags and pouches help professionals stay organized day in and day out, offering so many more storage solutions than other typical tool bags. From Klein's Tradesman Pro™ line of heavy-duty organizers to the new Signature Series Custom Tool Bags, here are just a few Klein Tools products that will make you say, "Get your hands off my Klein bag!"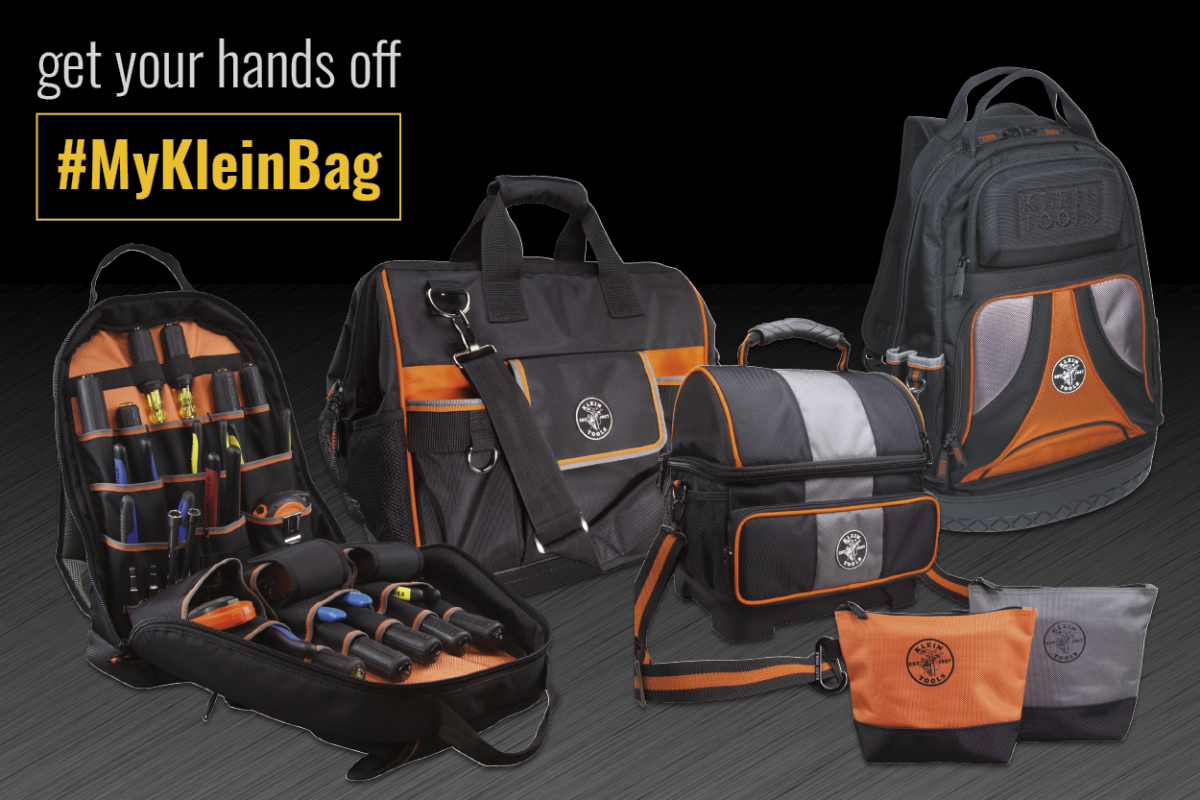 Klein Tools' Tradesman Pro™ product line offers various solutions perfect for each professional's preferences when traveling between jobsites. In fact, Klein's family of engineers, craftsman and workers are constantly collaborating to find new ways professionals can stay organized and prepared across all jobsites. For example, the Tradesman Pro™ Tool Master Backpack maximizes carrying capacity with 48 total pockets as well as a removable tool caddy to help professionals be ready for the day's job.
Maybe that's not the right bag for you, and that's okay too. Try checking out the Tradesman Pro™ Wide Open Tool Bag, which is built to stay open to help tradespeople search for the needed tools or parts. Still not exactly what you're looking for? The Tradesman Pro™ Tool Gear Backpack and the original Tradesman Pro™ Backpack both feature over 30 pockets and a bright orange interior to help make finding items easier. Klein's available designs offer all professionals the opportunity to find a tool bag that is just right for their day to day carrying needs.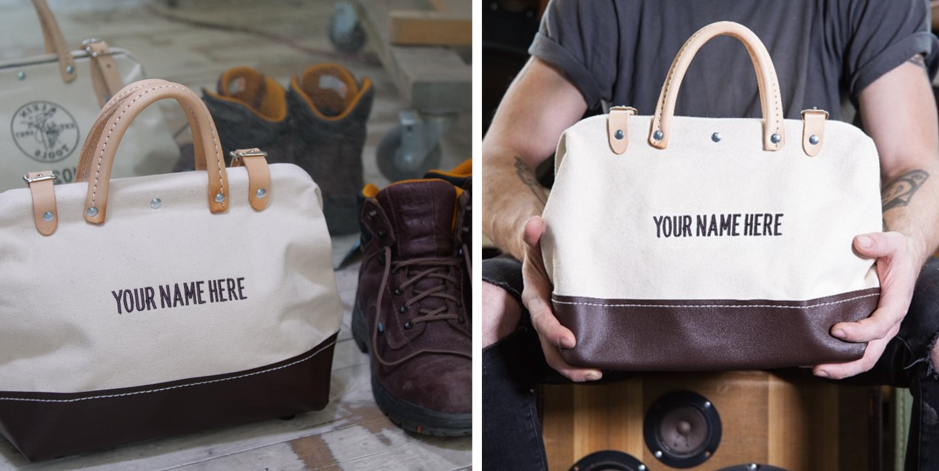 Klein's traditional canvas tool bag is a longstanding tradition that showcases the craftsmanship and heritage that make Klein Tools a trusted American company. Now, you can customize your Klein Tools Canvas Bag with a meaningful name, date or phrase up to 15 characters, perfect for celebrating retirement, a birthday and so much more! These versatile bags not only enable professionals and DIY-ers alike to carry tools and personal items to and from the jobsite, office or a weekend getaway but also make finding items on crowded jobsites easier with one-of-a-kind embroidery. Whether you're a novice, a pro or somewhere between, Klein Tools' custom tool bags can help you stay organized on the go.
Customize yours today! Visit www.customkleintools.com for more information about Klein's Signature Series Custom Tool Bags.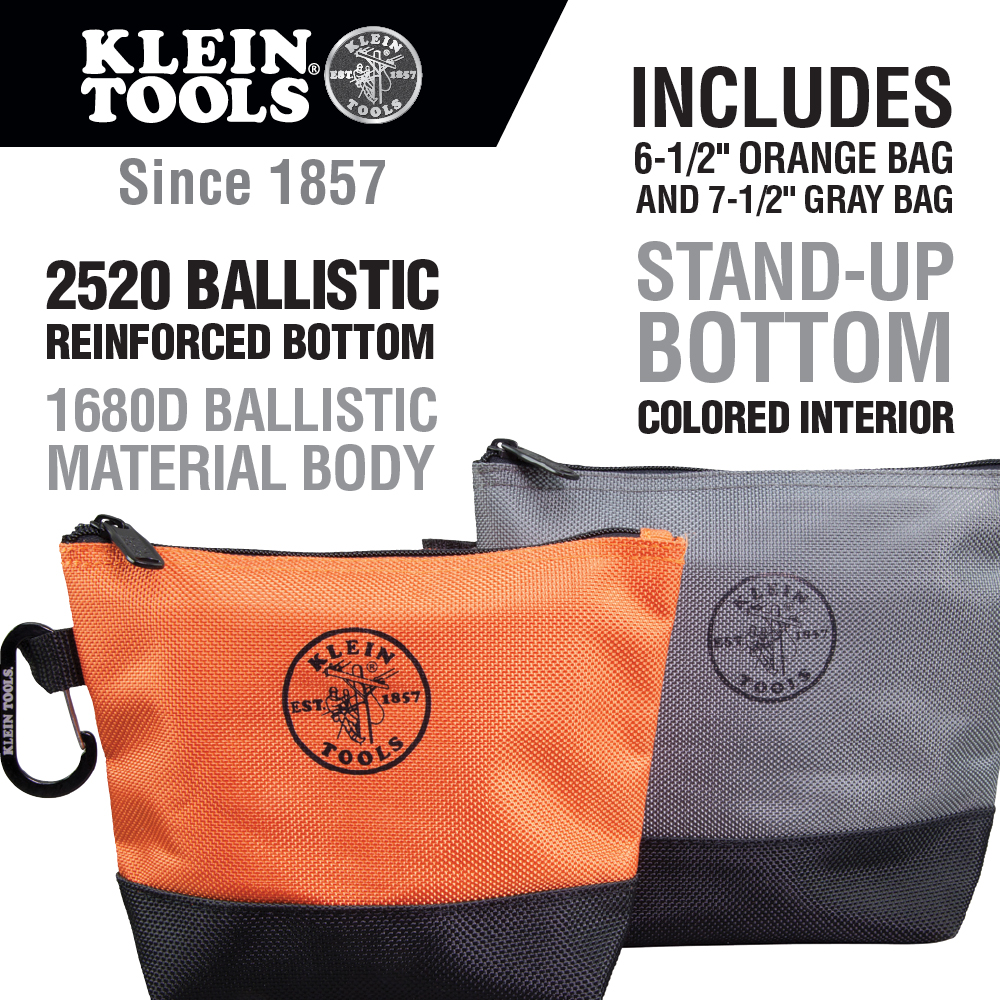 Bigger is not always better, especially when small bits and pieces get lost at the bottom of larger tool bags. Built-in pockets can help, but individual zipper bags offer an even handier solution to keeping groups of smaller items organized. Klein's Stand-Up Zipper Bags are specifically designed to stay open as tradespeople search for the part they need, and their colored interior makes stored items stand out, offering the perfect addition to any tool shed or truck.
When the most important time of the day (lunchtime) rolls around, Klein Tools still has you covered. The 12-Quart Soft Cooler keeps snacks and drinks cool for up to 12 hours with double insulation and a leak-resistant liner. Straight out of the Tradesman Pro™ line, this durable, everyday must-have will help you stay fueled to get the job done.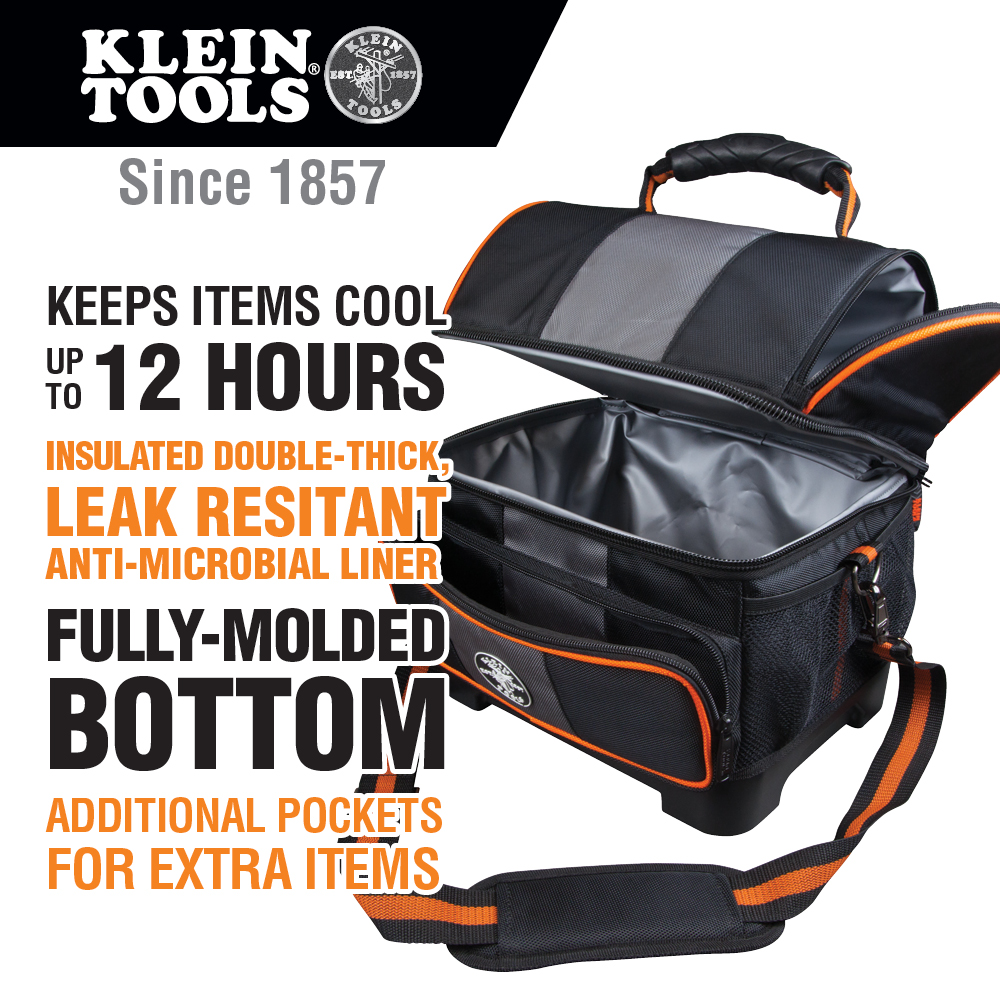 You might be surprised by what Klein's tool bags can keep safe, including power and hand tools, small bits and pieces and personal items – even sandwiches and snacks! There's more than one simple solution to staying organized, so let Klein Tools' various tool bags and pouches help you discover the best way to stay prepared for the day's projects.
Which Klein Tools products help you stay organized on the job? Share your tips and tricks with us on social media using the hashtag #MyKleinBag.