Forgotten, but not Lost: LED Back to the Tool Bag
Posted on:
February 8, 2019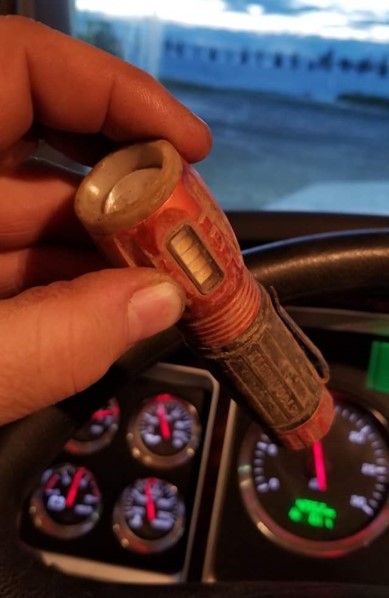 Professionals often share stories of how their Klein tools withstand the many tests of time. While we don't encourage these accidental durability tests, we do appreciate hearing how Klein Tools products exceed expectations for quality and durability. Recently, Klein's Flashlight with Worklight (Cat. No. 56028) hung right where it was needed, even after being long-forgotten.
As a professional truck driver with over thirty years of experience, Greg Anness is well versed in solving unexpected problems. One late night, he was struggling to unhook some pesky chains.
He suspects a fumbling rock on the road caused some trouble as one of the chain links was pinched, making it difficult to unhook. With his flashlight magnetized to the underside of the frame rail, Greg got to using his pliers to finally get the chain detached. After finishing this tricky task, Greg went on his way, forgetting the flashlight where it hung.
He was in luck, however, because the flashlight's strong magnets kept hanging on. But just how long did it stay put?
"Fast forward 290 km down the road this morning," says Greg. "I notice this magnetic flashlight is still on almost 12 hours later and stuck where I forgot it."
When Greg picked up this flashlight from a local distributor just a few months ago, it wasn't a highly significant purchase. Shortly thereafter though, its tried-and-true toughness sure came in handy. With both a bright, focused flashlight and a broadcasting floodlight, this one small package is ready for any big job.
When working in dimly lit areas, jobsite illumination lights the way to getting a day's tasks done right. From hands-free solutions like Greg's Flashlight with Worklight to the Telescoping Magnetic LED Pickup Tool (Cat. No. 56027), Klein Tools offers professionals durable products to withstand the harsh jobsite conditions faced every day.
How have your Klein tools out-performed your expectations? Share your stories with us on social media.