The Buzz About the VDV Commander™
I was browsing Buzzfeed this week (a perfectly legitimate way to waste a couple of hours) and came across this handy list of things I didn't know my iPhone could do. It got me thinking of our brand-new VDV Commander™. This Voice-Data-Video tester is only a couple inches larger than an iPhone, and also has a whole slew of features. In this case, these features are for anyone doing low-voltage work.
So, using Buzzfeed as my inspiration, here is my list of Things You Didn't Know our VDV Commander™ Could Do: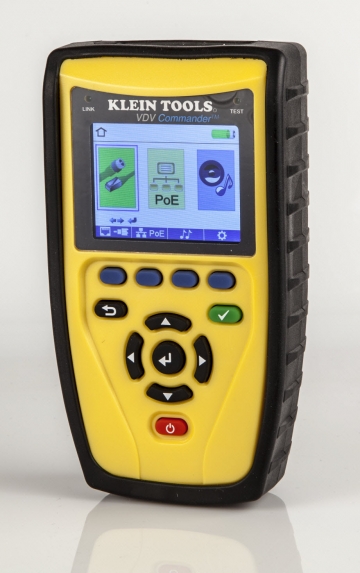 It can identify up to 20 cable locations at a time.

The VDV Commander™ Test and Tone Kit comes with 20 remotes to identify RJ45 and F-Connector coax cable. I can only imagine how ridiculously handy this would be on a big commercial job with many unidentified cables.

It can measure cable up to 1,500 feet (457 m).

The Commander uses something called Time Domain Reflectometry (TDR) to measure cable length and distance. TDR technology is also great for troubleshooting. It can measure the distance to a fault in the wire with an accuracy of ±5% and 1 ft.!

Test and identify cables in one step.

Use the Test-n-Map™ ID remotes to test and identify wiring faults like, miswires, opens, shorts, split pairs, and reverse pairs – up to 8 locations!

Detects, identifies, and tests Power over Ethernet (PoE).

Determine class and test loads up to 25.5 watts, test to make sure there is adequate power for PoE devices, and identify modes A or B, all with the Commander.

Check for active Ethernet speed.

That's up to 1 Gbps. The Commander can also indicate advertised speeds 10/100/1000BASE-T half/full duplex.

Visually locate cable runs.

Just use the handy Link Light by flashing the hub/switch status/activity LED.

Saves up to 256 cable or network tests.

The device itself has a ton of storage capability, but you can also export these reports to a computer (via USB connection) or print custom color reports.

Auto Power Off and Low Battery Indicator

It's the worst when you realize you left an electronic device on all night long, or your tester got accidentally turned on in your tool bag. That's why you've gotta love features like this.

Imperial or Metric results and Multiple Languages.

Readings on the 2.7" color LCD screen can be converted to Spanish or French, and it lets you choose between feet and meters to measure cable.

Protective Case

The Commander comes with a custom-designed case to hold the tester itself, and other testing gear, plus special storage for all the remotes (no loose parts rolling around the bottom of your tool bag!). The case also has a lot of padding to keep the Commander protected.

There is a cool video explaining more about the above features:
What Commander™ features will you use the most while on the job? Let us know on our Facebook page or via Twitter!