Over 4,000 years ago, the ancient Babylonians set some of the first New Year's resolutions – celebrating successful harvests and their loyalty to the kingdom. We don't need to tell you that the world has changed a lot since then, so instead of worrying about what we should sacrifice to ensure a good harvest, we're focusing on improving ourselves and those around us.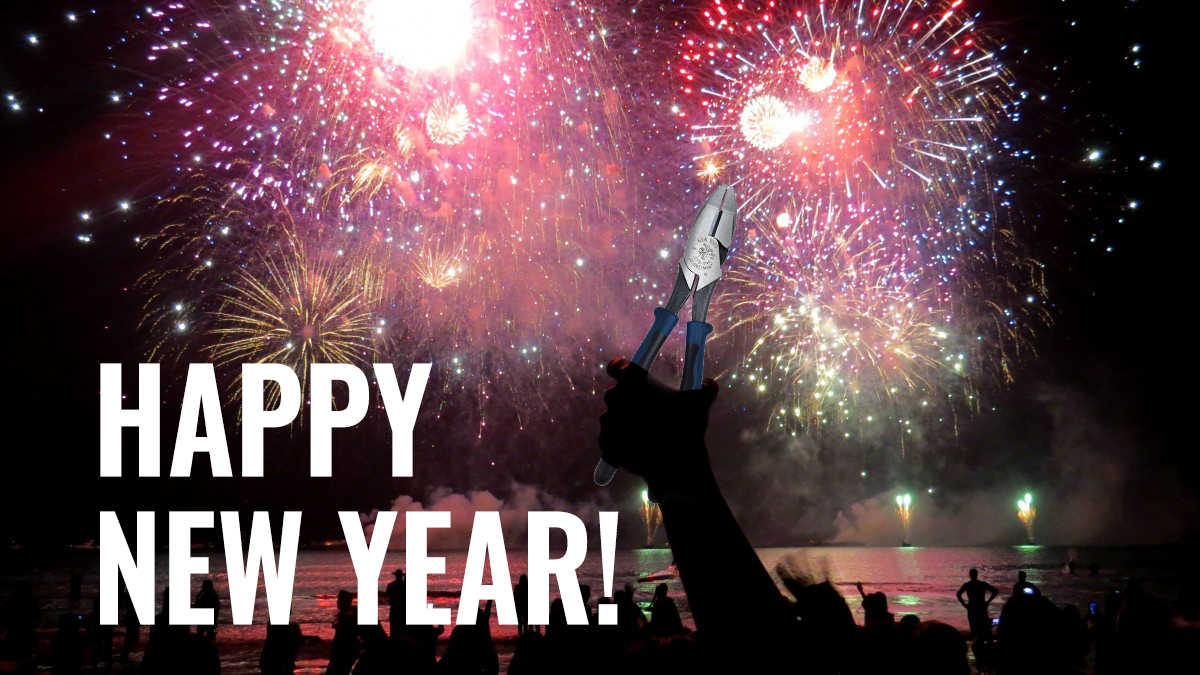 This year, Klein Tools wants to help you get the job done right. We've put together this list of possible resolutions in hopes of inspiring you to continue to work hard, meet your goals and be proud of your profession.
Celebrate American manufacturing. Klein Tools is an American company that's been family-owned and family-operated, since 1857. In 2017, we celebrated 160 years of expertise, manufacturing as close to home as possible, using the highest quality materials and exemplifying superior workmanship. Join us in celebrating the products that deliver the performance, durability and precision you need to get the job done – and the American workers who make U.S. manufacturing possible.
Invest in high quality tools. Visit one of our many partner distributors around the world in person or online to make a purchase, and you'll know what the professionals know – when you buy a Klein, it will never let you down.
Measure twice, cut once. You've heard it before, but it's worth reminding that double-checking your work helps to minimize wasted time, materials and money. Precise measurements not only ensure that the job is done correctly, but preparing well in advance is beneficial in many other aspects of daily life too.
Be an ambassador for cleanliness and safety on the job. According to AXA, 72 percent of customers are more trusting of a tradesperson who cleans up after themselves. When you don't want to leave your mark, try Klein's Tradesman Pro™ Shoe Covers, and for everyday safety, check out Klein's line of Personal Protection and Safety Gear.
Write and read more product reviews. When you write reviews of the tools you are using online, fellow tradespeople learn from your experience. Likewise, by reading others' posts, you may learn which tools, parts or bits you can benefit from using most.
Continuously practice old and new techniques. It's never too late to stop learning. Five in six electricians find that on-the-job training is the most valuable part of their educational experience. Training does not end after apprenticeships! With new skilled workers joining the workforce every day, just as they will learn from you, they may be able to teach you a thing or two.
Stay informed about new products, contests and promotions from Klein Tools. The best way to receive news and product updates is to sign up for the Klein Tradesman Club. Join for access to an exclusive e-newsletter, insider info, opportunities to provide feedback and more! Note: at this time, Klein's Loyalty Rewards and Klein Crusaders programs are only available to U.S. residents. The Klein Tradesman Club, however, is an opportunity for all international followers to stay up to date and participate in relevant surveys.
From celebrating American manufacturing to staying informed about new products, together, we can make 2018 a great year! Do you have any other New Year's resolutions? Share them with us on social media.