3 Ways These #NewKleins Stand up to Jobsite Demands
There's a reason why Klein tools are manufactured to provide the durability and reliability needed to get the job done. That's why it's no surprise when we hear stories from professionals about how their Kleins have stood up to jobsite demands.
Recently, our Klein Crusaders have shown us how the 9" Journeyman™ Heavy-Duty Diagonal-Cutting Pliers provide the cutting power, leverage and durability they need for greater efficiency on the job.
Providing Cutting Power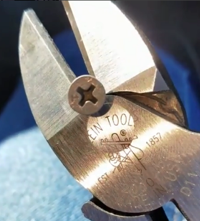 With 46 percent more cutting power, the heavy-duty cutting knives are perfect for cutting ACSR, screws, nails and most hardened wire. Nic demonstrates this increased cutting power, testing the tool against a variety of small bits and pieces, including 3/8" Carlon, ¼" toggle bolts, 12/2 Romexes, stainless steel bolts and even some unintended, impractical items like a pen, a pad of paper and half a roll of electrical tape.
Through all of this, his Kleins remained unscathed. "They cut through just about anything I could ask of them as an electrician!" he says.
Similarly, Rick put the tool through its paces in his own way, using the increased cutting power to cut hardened screws and stranded, solid and aluminum wires. Though not recommended, he was even able to utilize the tool as a makeshift wire stripper.
Looking for Leverage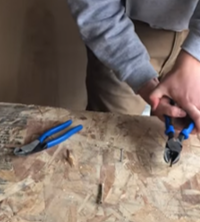 In comparison to Klein's standard diagonal-cutter, Cresten notes that the increased leverage on his new, heavy-duty model, provides a more comfortable grip.
"I mostly use the standard diagonal-cutters by Klein, which have a shorter blade, a shorter handle and don't have as much comfort," says Cresten. "The new ones have a longer blade, a thicker, more heavy-duty handle and a longer handle to give you increased leverage and grip on the tool."
Previously, after completing a job, Cresten would feel the repercussions in his palms. However, the dual-material Journeyman™ handles limit discomfort, perfect for day to day use.
Built to Last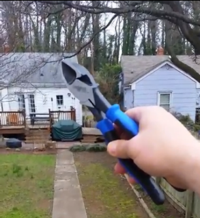 We frequently hear stories of Kleins being passed down from generation to generation, still helping to get the job done just as well as day one. Jeremy proved his tool's durability with a 10-foot ladder drop test, explaining a jobsite scenario maybe all too familiar to some professionals.
When working on top of a ladder, or at heights, minor blunders can occur, resulting in tools dropping to the ground below. If that tool needs to be replaced quickly, it can put you in a pinch. Luckily, your Kleins are built to last.
After conducting the test, he inspected his tool.
"Doesn't appear to even be scratched, scuffed, or anything like that, so it can definitely survive at least one fall," says Jeremy. "God knows, I'll probably be dropping these off of ladders until I finally do break them, but until then, pretty good, hefty product."
Remember, while we love hearing about the ways you use your Klein products, including accidental durability tests, there are wrong ways to use a tool and safety should always be a priority.
How have your Kleins stood up to the test? Share it with us on social media!